The RadioMall.com's
Country Cavalcade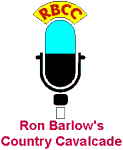 | | |
| --- | --- |
| | The 1996 Ohio Country and Western Music Association Disc Jockey Of The Year, Ron Barlow, has been spinning Country Music recordings for more than 40 years . He first received the Ohio Country Music Association honor in 1972 and continues to host a top rated Classic Country Music Show each week. Even during his military service years he played the Country Music hits of the 1950s as "The Rice Paddy Ranger" on the Armed Forces Radio And Television Service, Okinawa. He has emceed and produced concerts featuring nearly every legendary Country Music artist and proudly displays two certificates honoring him as a "Mr. Deejay U.S.A." from the Mr. Deejay Hall Of Fame in Nashville. On this Country Cavalcade series Ron plays many of the hits of Country Musics legendary performers and shares memories of some of the appearances that added to the legends of these super stars. |
Send email to
Ron Barlow
This Site Uses the Real Audio Technology


Realtime Audio.



---
Johnny Cash
Johnny Cash is one of the most honored and active of today's country music stars. Most recently he was named a Kennedy Center Honoree by President Clinton. He was inducted into the Country Music Hall Of Fame in 1980 and has been named Country Music Association Entertainer Of The Year and had the CMA Song Of The Year. Since the beginning of his career in the early 1950s he has sold millions of recordings and made thousands of appearances and continues to record and entertain today. On this show Ron traces his career musically from it's beginning in the little Sun Studio in Memphis, Tennessee to his latest chart toppers. Enjoy one of country music's greatest talents during this one hour show.

---

Keep On Truckin'
As the "Romance Of The Rails" began to fade in the 1960s and 70s America was searching for new heros and all of a sudden discovered the "Knights Of The Road", the truckers that were hauling the freight along the rapidly expanding and improving highways of the nation. Established Country Music stars like Red Sovine and Del Reeves were making trucking and CB recordings and newly discovered talent like Dave Dudley and C.W. McCall were getting on the Diamond Reo Speedwagon with their brand of truck driving hits. Not only were truck-stop juke boxes playing these records but so were the nation's disc jockeys and for several years those songs were reaching the top of the play and sales charts. On this show Ron plays some of the most successful trucking songs and gives some background on the artists who recorded them.

---
There can be no doubt that Hank Williams was a genius. In a few short years he left a musical legacy that has never been equaled. His influence is felt even today forty years after his death in many different types of music. Ron talks about Hank's short career and plays some of his most popular songs. The show ends with a rare recording of hank signing off his radio show and singing his gospel classic, "I Saw The Light."
---

Marty Robbins

Considered by many to be the Best all around music talent of all time. Marty not only had hits on the country charts but many crossed over to become #1 Hits on the pop charts as well.
---


George Jones

Much has been written and much has been said about George Jones, and Ron will guide you through his long career with many stories and the music that made him one of the all time greats.
---


Buck Owens

Recently inducted into the Country Music Hall Of Fame, Buck Owens created a new style of Country Music with his "Bakersfield Sound" in the 1950's, 60's and 70's. Ron features some of Buck's famous recordings, most of which were chart toppers. Buck, himself, tells how many of these songs were written and explains how his last hit song, "The Streets Of Bakersfield", with Dwight Yoakam came about.
---
Bobby Bare can be credited with bringing back the stories to Country Music in the early 1960's with songs like "Detroit City" and "500 Miles Away From Home". His unique style of singing and reciting the lyrics of a song set him apart from the other country artists of that time. The full musical background produced by Chet Atkins and RCA Records introduced fans to a new direction for the music they loved and opened the doors for such artists as Waylon Jennings, Willie Nelson and Tom T. Hall. This show features some of Bobby Bare's earliest hit singles including "The All American Boy" which was credited to Billy Parsons who could make the concerts and appearances with this huge hit song while Bobby was overseas fulfilling his two year armed forces obligation.
---


Ernest Tubb

This show features some of the many hits of country music's famous Texas Troubadour, Ernest Tubb, who did much to influence the modern sound of the music he loved and promoted. He is also credited with convincing the media and record companies to refer to the music as country and western and to get away from using hillbilly and folk terms. Elected to the Country Music hall of Fame in 1965, he not only worked hard as a goodwill ambassador, playing over 200 dates a year during the 50s, 60s and 70s, but was a great booster and inspiration to some of many up and coming artists during those years. This one hour show traces his career from its' beginning in Texas in the 1930s up until ill health forced him to quit touring in 1982. A great innovator who set a new trend and style in country music, Ernest Tubb was one of a kind.
---


Kenny Rogers

Kenny Rogers has been a TV star, a pop music star, a movie star and a successful business man but most of his success has been in Country Music. It is this music that has opened the doors to many varied ventures that have contributed to Kenny's accomplishments. On this show Ron traces the beginning of Kenny's musical career and offers the listener many of his early hit songs beginning with recordings with the First Edition. Several of these songs either led to a series of television movies or were featured in big screen motion pictures. This is a collection of some of Kenny Rogers first and finest hit recordings along with comments about his fantastic career.
---

Country Hits of the 50's

The 1950's saw many great performers come onto the Country Music scene. Ron plays the all time greats and fills in the history.
---

Country Hits of the 60's

Ron tells of the emergence of a new crop of Country Music Super Stars that blazed new musical trails into the 1960's. Hit songs include efforts by such legendary entertainers as Buck Owens, Conway Twitty, Jeannie C. Riley and Marty Robbins. Huge hits from the 1960s established new standards for country artists to follow.
---

Top 15 of all Time

In June of 1994, Billboard magazine released it's all time top 100 Country music songs list. Ron will take you down memory lane by playing the Top 15 of all time with some very inciteful history of each.
---


Porter Wagoner

Porter Wagoner has been a very visible star on the country music scene for the past forty years and has been a performer on the Grand Ole Opry since 1957. Although he signed with RCA Records in 1952 his first hit songs were self finance recordings he made in 1954 several months after the label had dropped him. He was quickly re-signed and proceeded to turn out numerous hit records, had his own syndicated TV show and appeared in concerts all over the nation. He is credited with discovering Dolly Parton and promoting her to stardom on his TV show while recording numerous award winning duets with her until she left his show in 1974 to pursue her career on her own. On this show Ron features many of the major hits that Porter recorded during his most popular years and traces his career up until today as a star of the Grand Ole Opry and Goodwill Ambassador for Opryland.
---


Country Music's Funny Folks

Some of America's funniest recordings have come from country music stars who, in some cases, have become very successful with their material. Entertainers like Roger Miller, who had his own TV show, Jerry Reed, who starred in several motion pictures, and Homer and Jethro , who starred in a series of television commercials for Kellogg's breakfast food. Even Johnny Cash scored high on the music charts with novelty songs. This one hour show features some of the many memorable fun recordings turned out by country music artists during the past 50 years. This show will not replace your collection of Hee Haw tapes but it is an acceptable addition to your Best Of Spike Jones and Stan Freeberg albums.
---


Charley Pride

From the mid 60's to the mid 80's Charley Pride was one of Country Music's most prolific recording artists selling over 30 million records and charting a total of 31Gold and four Platinum LP's. At the height of his career he recorded a total of 36 number one records on the Billboard Country Charts and continues to be one of the top drawing country acts on the concert circuit. On this show Ron features many of Charley's biggest hits including Crystal Chandeliers which was never released as a single but was one of his first hit songs when disc jockeys found it on an album and started playing it in 1963. This one hour concert with comments by Ron Barlow is an excellent showcase for one of Country Music's finest talents.
---


Eddy Arnold

The Tennessee Plowboy ain't a plowboy anymore! In fact Eddy Arnold hasn't been a plowboy since he changed his image in the 1960s and started recording with a full orchestra and making appearances in a tuxedo. On this show Ron plays some of the biggest hits of this country music giant. Estimates are that he has had a number one hit on the country charts for a total of 145 weeks, many of which crossed over to become hits on the pop charts also. Plan to spend a full hour enjoying the smooth, easy style of one of country music's most valuable treasures.
---

Ray Price

One of the newest member of the Country Music Hall Of Fame, Ray Price has had a diverse County Music career starting in the mid 50s with his little Cherokee Cowboy band and progressing into the 80's when his musical arrangements required 11 additional violins to a full orchestra to recreate the lush instrumentation of his Columbia recordings. Ron remembers working with Ray when he had changed from wearing a western shirt and jeans to a formal tuxedo and playing his hit songs in the 1970's as they constantly crossed over to the Pop Music Charts. Ron plays many of Ray's hits and talks about the career of this Country Music giant.
---

1996 Hall of Fame Inductees

During this 60 minute show Ron Talks about the 1996 Country Music Association Hall Of Fame inductees and plays some of the hits of Buck Owens, Ray Price and Patsy Montana. The three were honored during that annual awards ceremony in October in Nashville.
---

Great Cross Over Hits

Billboard magazine charts all the Greatest Hits from Blues to Rock, from Jazz to Country and Ron charts the 15 all time greatest Cross Over Country Hits.
---


Return To The Barlow's Home Page

---
COPYRIGHT © 1996/97 The Barlow's.
Send your comments to Dave Barlow